Z I A J A F F R E Y was born in New York and spent part of her childhood in Delhi, India.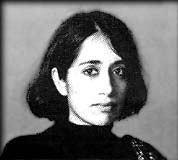 She attended Barnard College, where she majored in English, and the Columbia University Graduate Writing Division for fiction. She has written numerous features and book reviews, and has been published in The Nation, The Village Voice, and Elle, among other publications. She lives in New York City.












New York Newsday, Nov. 10, 1996
"We're in the able hands of a narrator who relishes suspense... helplessly captivated... The result is a languid, perceptive book... leavened by thoughtful observations ... sharp analyses ... and refreshingly honest misgivings.... The process of this story rivets our attention.
-- NINA MEHTA
book-jacket design: CHIP KIDD
cover photo: CATHY CAPLAN
author photo: ELENA CIEBERT
sling-shot photo: ZIA JAFFREY
web design: VIVIAN SELBO






available at Barnes & Nobles bookstore
online ordering available at amazon.com books



S Y N O P S I S:

Anita, a hermaphrodite, was handed over to the hijra community by her parents when she was four; Kamal Baksh, born male, believed herself to be female and allegedly castrated herself in a remote village outside Hyderabad; Jagoman Dhyani, seeking pleasure in the big city of Delhi, was kidnapped, drugged, and castrated against his will. These are some of the testimonies of the hijras of India -- known as eunuchs, transexxuals, or those who are "neither male nor female." The hijras exist in thousands in every major city of India, and are known to every Indian because they crash weddings and childbirths, sing lewd sons out of key and hurl insults at the guests. Finally, they are paid to leave everyone in peace.

In this bold, beautifully written book, THE INVISIBLES, Jaffrey sets out on a journey through India to find out who the hijras really are; why the subject is taboo and their history never recorded; and why their numbers show no sign of decreasing, despite India's rebirth as a modern, independent nation. Her incisive exploration of the lives, rituals, and cultural history of the hijras raises many startling questions, sheds light on a subject never before considered a "subject," and challenges the traditional scholarship... Through Jaffrey we meet police commissioners, detectives, and the hijras themselves, in a labyrinth of truth, denial and humor... Says Jaffrey: "THE INVISIBLES is a very complex story, in a very Indian way..."


TO TOP